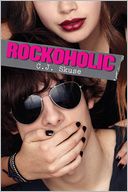 Source:
Publisher via Netgalley
She's got it bad, and he ain't good -- he's in her garage?

Gonna have to face it: Jody's addicted to Jackson Gatlin, frontman of The Regulators, and after her best bud Mac scores tickets, she's front and center at his sold-out concert. But when she gets mashed in the moshpit, loses her precious moon rock, and bodysurfs backstage, she ends up with more than a mild concussion to deal with. By the next morning, the strung-out rock star is coming down in her garage. Jody -- oops -- kind of kidnapped him. By accident. And now he doesn't want to leave.
It's a rock-star abduction worthy of an MTV reality series . . . but who got punk'd?
Initial reaction
Ok, that book turned out waaaaaaaay better than I thought it would at first.
Cover story
I like both of them.
The cover is sort of cute but you get the whole rock vibe with the sunglasses and the black fingernail polish.
It works.
I probably wouldn't hold it up in public, but that's because I'm a 40-something year old woman.
The title is good too.
So, all in all, title and cover are alright.
What's the Story?
I seriously thought several times that this would be a book I did not finish.
I really, really did not like Jody, the main character.
In fact, throughout most of the book I thought she was a spoiled, selfish, immature brat.
I mean, what kind of girl/woman, who is already out of school and works full time, gets that obsessed with a band and then takes the lead singer away and hides him in the garage???
I could not handle her.
She was so self-absorbed and the way she kept fawning over Mr. Rock Star and ignoring the wonderful person of Mac, who was standing right in front of her, was just too much for me to take.
Then, a funny thing happened.
I kept reading, hoping it would get better, and IT DID!
Jody started to grow up.
She saw how demanding and mean Jackson really was.
And she started to realize just how wonderful Mac was and how she had always taken him for granted.
This was when I realized that I really liked the book after all.
Let me clarify and say that I always liked Mac.
I could tell from the beginning that he was a really awesome guy.
I'm just glad that Jody finally noticed that too.
Now, I have to admit that the whole premise of this novel is a little preposterous.
Who kidnaps a rock star?
But ridiculous premise aside, I was glad to see Jody grow up so much during this novel.
If she hadn't started changing some, I would have shut this book and never looked back.
I have to admit that I'm not sure why she and Mac were not in school.
They were both 18 (I think), but Jody had a full time job in a daycare center.
I wish that I understood more about the British school system and if this book is going into the American market, it might warrant a bit of an explanation somewhere.
Just sayin'…..
If you decide to pick up this novel, just stick with it a little while.
Jody's whining and self-absorption does get better.
I promise.
The Soundtrack
Realize by Colbie Caillat
Friend of Mine by Lea Salonga
Falling in Love at a Coffee Shop by Landon Pigg
Anyone Else But You by The Moldy Peaches
True Colors by Glee cast
Superstar by Taylor Swift
I know a country song really doesn't belong on a soundtrack for a book about a rock star, but the lyrics to this song were just perfect!
The Final Grade
My final grade for this book is a B.
The beginning was not so great, but once Jody started to pull her head out of her rear, I liked it a lot better and Mac was great the whole time.
If you don't mind slogging through the whininess, then you'll be rewarded with a great ending.