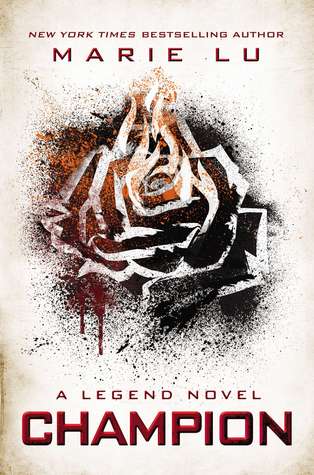 Publisher: Putnam Juvenile
He is a Legend.
She is a Prodigy.
Who will be Champion?
June and Day have sacrificed so much for the people of the Republic—and each other—and now their country is on the brink of a new existence. June is back in the good graces of the Republic, working within the government's elite circles as Princeps-Elect, while Day has been assigned a high-level military position.
But neither could have predicted the circumstances that will reunite them: just when a peace treaty is imminent, a plague outbreak causes panic in the Colonies, and war threatens the Republic's border cities. This new strain of plague is deadlier than ever, and June is the only one who knows the key to her country's defense. But saving the lives of thousands will mean asking the one she loves to give up everything.
With heart-pounding action and suspense, Marie Lu's bestselling trilogy draws to a stunning conclusion.
Initial reaction
::sits down to calm heartbeat:: The feels, people, the feels!! At my age, the angst at the end of this series could have caused a heart attack!
Cover story
This is the only part of this book that doesn't just bowl me over. I mean, the cover is ok. It's not horrible, but it's not anything special either. It certainly doesn't reflect the awesomeness of the story held within its covers.
What's the story?
This series is just your average boy meets girl, boy loves girl,girl loves boy but girl still tries to kill boy, boy and girl try to overthrow evil totalitarian government story…………
Not exactly. Of course, all those things happen, but the complexity of these characters and the nuances of this story make this series so much more than your average dystopian fare. I love the characters in this series. Marie Lu has done such a great job of making everyone so believable. Also, I love that there are no absolutes in this story. No one was purely evil and no one was wholly good. At times, I sort of wanted to everyone to win. Except for Captain Jameson. She was actually evil. But it turns out that the Republic, the Colonies, Day, June and even Thomas are more gray than black and white and I really liked that.
The story had me sitting on the edge of my seat throughout the entire novel. There was a ton of action and plenty of heart fail to be had. I just sat in my reading chair and raced to the end in about a day. I couldn't put it down because I had to know what was going to happen.
I love the world that Marie Lu created in this series. It was fun to see Antarctica and Africa as major world powers. I think that Lu has a lot of timely warnings for us in this book as well, without being preachy and in your face. The fact that empires rise and fall is a nice warning to those folks who think that western civilization is invincible. Of course, the environmental cautions are there and I love the way she works in some cautions about powerful corporations with the Colonies. All in all, she does a great job of working in some very timely issues without being preachy.
So, I'm rolling along, just loving the book and then I reach the end and it's like…..pow!
Thank goodness I turned the page and found the epilogue and then I was more like:
I closed the book totally satisfied with the series and the ending.
The Soundtrack
Bittersweet Symphony by The Verve
So far Away by Avenged Sevenfold
The next 2 songs come from Marie Lu's playlist. You can find the whole thing here.
Copper Down by The Boy Who Trapped the Sun
The Final Grade
My final grade for this novel and this series is an A+. In a sea of dystopians, I think this series really stands out. It's a fast-paced, thrilling story with a host of complex characters and a great ending that doesn't feel forced by isn't completely tragic either. It also serves as a pretty decent cautionary tale dealing with some timely issues. I highly recommend it.